Site Admin

Messaggi: 7999
Iscritto il: mar set 03, 2013 9:19 pm
città di residenza: porto torres
Allegati

Cattura1.JPG (68.78 KiB) Visto 1364 volte

Cattura2.JPG (54.94 KiB) Visto 1364 volte
"L'uomo che è cieco alle bellezze della natura ha perduto metà del piacere di vivere" B.Powell
---
Buon giorno
Ferenz
---
Third hatch
from fb
Ferenz
---
---
Site Admin

Messaggi: 7999
Iscritto il: mar set 03, 2013 9:19 pm
città di residenza: porto torres
Allegati

Cattura1.JPG (66.85 KiB) Visto 1353 volte
"L'uomo che è cieco alle bellezze della natura ha perduto metà del piacere di vivere" B.Powell
---
They are getting huge...
from fb
Ferenz
---
---
We ringed the Manton Bay chicks this morning.
All three looked in fantastic condition. Here are T8 and T6.
T8's larger bill and head suggest that she is a female, whereas smaller T6 is a male.

T7 is somewhere in between, but we think a female.
https://www.facebook.com/RutlandOspreyP ... =3&theater
Ferenz
---
Spread your wings

By Kayleigh Brookes on July 9, 2016

All three Manton Bay chicks have now fledged! (T7 on 4th July, T6 on 6th July and T8 on 7th July).

It doesn't seem all that long ago that we were celebrating the fact that they had all hatched! Those eight weeks have flown by in a blur of feathers and fish, and in another few short weeks the Manton Bay brood of 2016 will be contemplating a 3,000 mile trip to Africa!

Now that the juveniles are all on the wing, there is not so much action on the nest itself anymore, and the webcam often only offers a view of an empty nest! Consequently, the best views of the ospreys at this time of year are to be had from Waderscrape and Shallow Water hides, down in Manton Bay. The youngsters are testing their wings and becoming more active and adventurous, and they are putting on a good show! Even the adults have been seen seemingly playing and having fun together, dive-bombing swans and grebes and displaying in the air.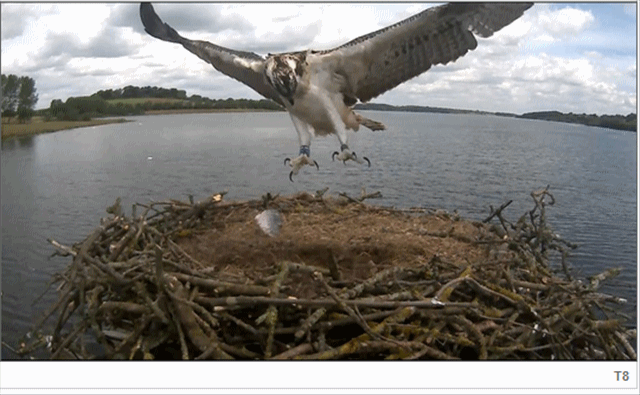 http://www.ospreys.org.uk/spread-your-wings/
Ferenz
---
Ospreys, Manton Bay, Rutland Water Nature Reserve

Here is another

superb video by Dave Cole

, filmed over the past few days.
This video shows some of the action that can be witnessed from the hides
on the nature reserve, now that the young are flying.
https://www.youtube.com/watch?v=Hg_zkbaHr8A
Ferenz
---