Clarach feeding her chick
Ferenz
---
Aberfoyle, Scotland:

The osprey chicks have now been ringed and returned to their nest - Clarach is back on the nest too after keeping watch from up in the air. At one point we saw both adults and an intruder circling the area.

They are both male and have been given the darvic rings LH0 and LH1. LH0 has been satellite tagged and LH1 may be tagged later as was a wee bit too small.

We should be able to keep track of their progress over the next few years.

Dyfi Osprey Project - Rutland Osprey Project
http://tinyurl.com/y9fbswhf
Ferenz
---
Aberfoyle, Scotland: Good winds, both chicks are very active flapping, hopping...
Ferenz
---
From The Dyfi project: First Aberfoyle chick, Scotland has fledged
LIFT-OFF!!!

At just after 4:30pm this afternoon Clarach's eldest chick took to the Scottish skies for the first time.

At 53 days old, Blue LH0 fledged directly into the wind and in doing so became Monty and Glesni's first ever grandchick
to do so - as far was we know anyway.

Many congratulations to Clarach, her mate, and all the guys at The Lodge Forest Visitor Centre in Aberfoyle!

If only we could tell Glesni and Monty, they would be over the moon
http://tinyurl.com/yaahkqqz
Ferenz
---
Aberfoyle, Scotland: Clarach is back from perch tree and covering her chick
> intruder alert & goes chasing the strange bird..
Ferenz
---
Aberfoyle, Scotland: LH1 arrives -
older brother LH0 follows, leaves & returns to his sibbling
Ferenz
---
Clarach joins her boys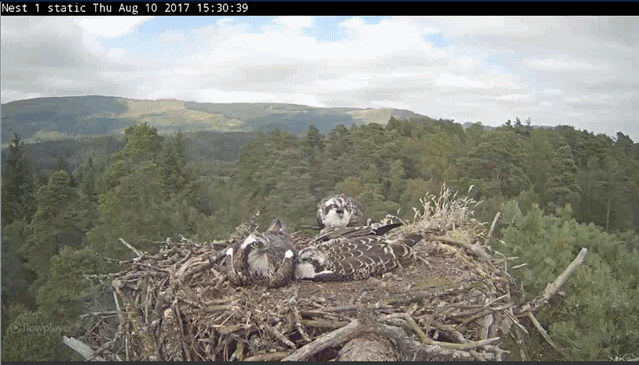 Ferenz
---
LH0 with fish - LH1 in front of camera showing us his transmitter & sweet face
Ferenz
---